Resource Monitoring & Awareness
Ceradon captures your resource useage at source or from existing data repositories/loggers, and presents single source or aggregated information for management, education, and decision support.
Our knowledge and experience help you optimise resource monitoring plans, and best locate new resources such as wind turbines and solar panels.
The software and hardware products support local resource monitoring, local or hosted data storage, real time aggegation and display of resource performance, and educational presentation and awareness.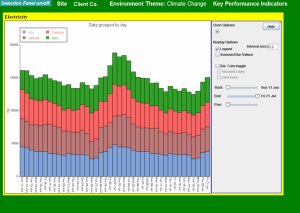 Features
Services
Site reviews/reports
Monitoring and logging advice
Why Us?
Our expertise and software means you can implement cost effective resource monitoring in your organisation with the unique capability to seamlessly capture data from meters, manual input or existing data systems. Our unique graphical presentations deliver the information in a way that educates and widely increase resource use "literacy" in your organisation.